Posted by IPT News, originally posted 05-December-2017
Editor's note: the video noted in this post has been removed from the imam's Facebook page since the original posting of this content.
Yeah, the innocent always love to hide what they have had to say, yes?
A Texas-based imam called for Israel's destruction in a recorded prayer posted to his Facebook page Thursday.
While Sheikh Ramadan Elsabagh does not mention President Trump's proclamation Wednesday recognizing Jerusalem
as Israel's capital and starting the process of moving the U.S. embassy there, it seems to be a clear reaction.
The Investigative Project on Terrorism translated Elsabagh's Arabic chanting…
Our Lord. Help holy Palestine," Elsabagh said. "… Oh Allah, be with your oppressed worshippers in Palestine, Oh Allah destroy the Zionists and their allies, and those who assist them, and those who allowed them into the abodes of the Muslims. By Your Power, Oh mighty one, Oh Mighty one, through Your Power and Might, Oh Allah deflect them with what You will, and however You will, for You are omnipotent, and with a response omnipotent. Oh Allah save [Al Aqsa] from the hands of the accursed violators, whom you have cursed in every Book, and cursed them through every prophet," he said in conclusion. "Oh Allah destroy them.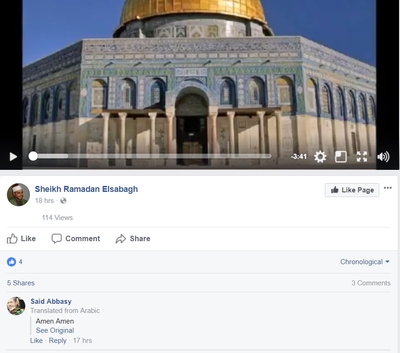 Elsabagh is listed as the head of the ISF Islamic Institute in Garland, Texas, and is featured as a Quran reader on many internet sites.
The video drew several comments of "amen, amen," according to a Facebook translation.
One came from Said Abbasy
, a New York-based Muslim Brotherhood supporter.
Abbasy mourned the death of "Blind Sheikh" Omar Abdul Rahman
– considered the spiritual guide for the 1993 World Trade Center bombers who was convicted for a plot to attack other New York landmarks and assassinate high-profile targets.
"Oh God," Abbasy wrote on Facebook
, "take vengeance on those who wronged him."
COMMENTS
Currently, comments are closed. We have just returned online and are rebuilding many facets of our site. Comments on our site are temporarily disabled until we have the programming for the management of comments tested and placed into production. Feel free to visit our social media accounts found here to share your thoughs or provide more information. Be sure to let everyone know which post your referring to by providing the post link.
About Garrett O'Brien
Garrett is the owner of DecisiveLiberty.News. Formerly a Liberal then a Republican, Garrett has seen political parties by default look out for themselves and not the people. Garrett now focuses specifically on our Constitution as it is written. He uses Decisive Liberty as a platform to provide a voice to those that believe neither political party are protecting our Constitution nor our Rights to their fullest as our Founding Fathers wrote them in the First 10 Amendments. For the moment, Garrett resides in Brazil with his wife.
Recent Posts by Garrett O'Brien
View more...
---
Died Suddenly - Conspiracy No More
Please view the Trailer for this video first. The graphic imagery is intentional as it is the only way you will know what is happening; Big Pharma is counting on you NOT knowing what is really happening.
The trailer can be viewed by clicking here (opens in our rumble account).
The audio and the video is NOT suitable for children - please view when they are not present (use earphones or headset to keep young ears from listening in).
From the Directors of 'These Little Ones' and 'Watch the Water'
Embalmers and funeral homes see the results of what has been happening for the past 2 years - something is WAY different, it isn't good, and they aren't happy...
Life insurance companies are fully aware of the results the embalmers and funeral directors are seeing and reporting.
Sudden Adult Death Syyndrome (SADS) is NOT a syndrome - it is a result of foreign substances that are in the vaccines, one of them being Graphene Oxide, that are create inorganic strings in the blood system that eventually stops the blood, dead.
All rights belong to SPN - Stew Peters Network
---
Reflections from Decisive Liberty
The following stance is stated in the final paragraph of the oration given for the unveiling of our Statue of Liberty on the 28th of October, 1886....
... there is room in America and brotherhood for all who will support our institutions and aid in our development; but those who come to disturb our peace and dethrone our laws are aliens and enemies forever.
You can view the full oration by clicking here.
We at Decisive Liberty are committed to this stance and welcome all - if you have not already - to join us in learning to live by this stance.
We are but 1 of 2 nations that have placed God within their Constitution: one was created by God for the people He loves, the other created by the people who love Him.
---
PROMOTION: Check out our Substack site - just click this image to get your invite

Click the image above to receive your invite to our Substack content.
Once approved, you will automaticlaly subscribed to our Substack newsletter.
All Substack content is free and arrives once or twice a day!
You can easily unsubscribe from any newsletter.
See our home page for the lastest 3 topics we have published.
---