White House Expects Short Senate Impeachment Trial, No Witnesses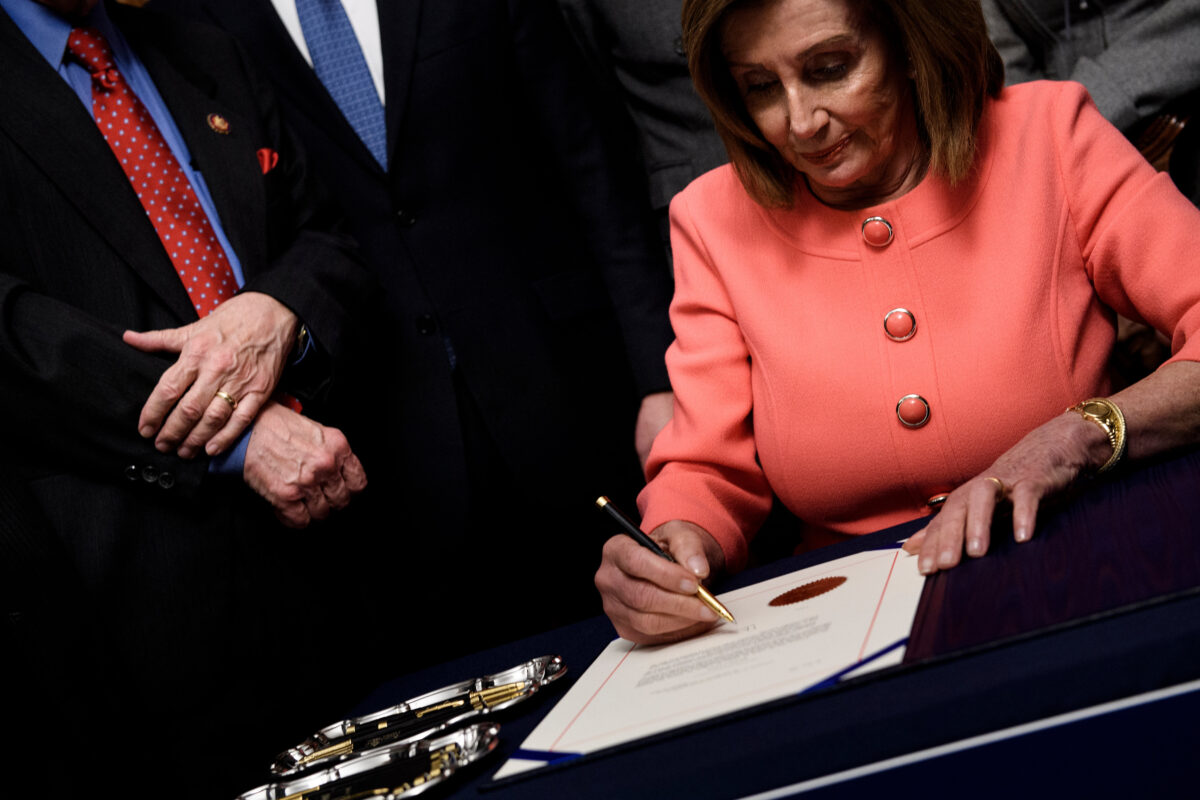 White House Expects Short Senate Impeachment Trial, No Witnesses
The White House is expecting a short Senate trial hearing the articles of impeachment against Republican President Donald Trump, senior administration officials said.
The administration is also expecting no witnesses to testify during the trial in the GOP-held Senate, the officials said in a phone call with reporters.
"These are the weakest articles of impeachment that have ever been passed in any presidential impeachment. They state no violation of a crime, no violation of any law. And the idea that it is obstruction of justice, obstruction of Congress for the president to assert constitutionally grounded privileges that protect the separation of powers is absurd. We think that these articles fail on their face," one official said.
"We're prepared. We have been ready and are ready to get things moving in the Senate because the facts overwhelmingly show that the president did nothing wrong. And we're happy now that we're going to have a chance to vindicate the president and get this process behind the country so that the American people can move on and stop having time wasted by House Democrats with their obsession to try and attack the president."
The Senate is expected to vote on initial guidelines for the trial that are "very similar" to the ones used in the trial of President Bill Clinton in 1999, Senate Majority Leader Mitch McConnell (R-Ky.) has said. The guidelines would have both sides argue their cases before senators submit written questions. Only then would they vote on whether to call witnesses.
"We don't think that there's going to be any need for witnesses in this trial. I think that if the Senate decides to adopt similar procedures to the Clinton trial, which seems to be a possibility and seems to be logical; all 100 senators agreed on it, at that point," an administration official told reporters.
"It allows the senators to hear presentations and then decide whether they need to hear anything else. And we think, at that point, they wouldn't need to hear anything else because this is an extraordinarily weak case for the House managers."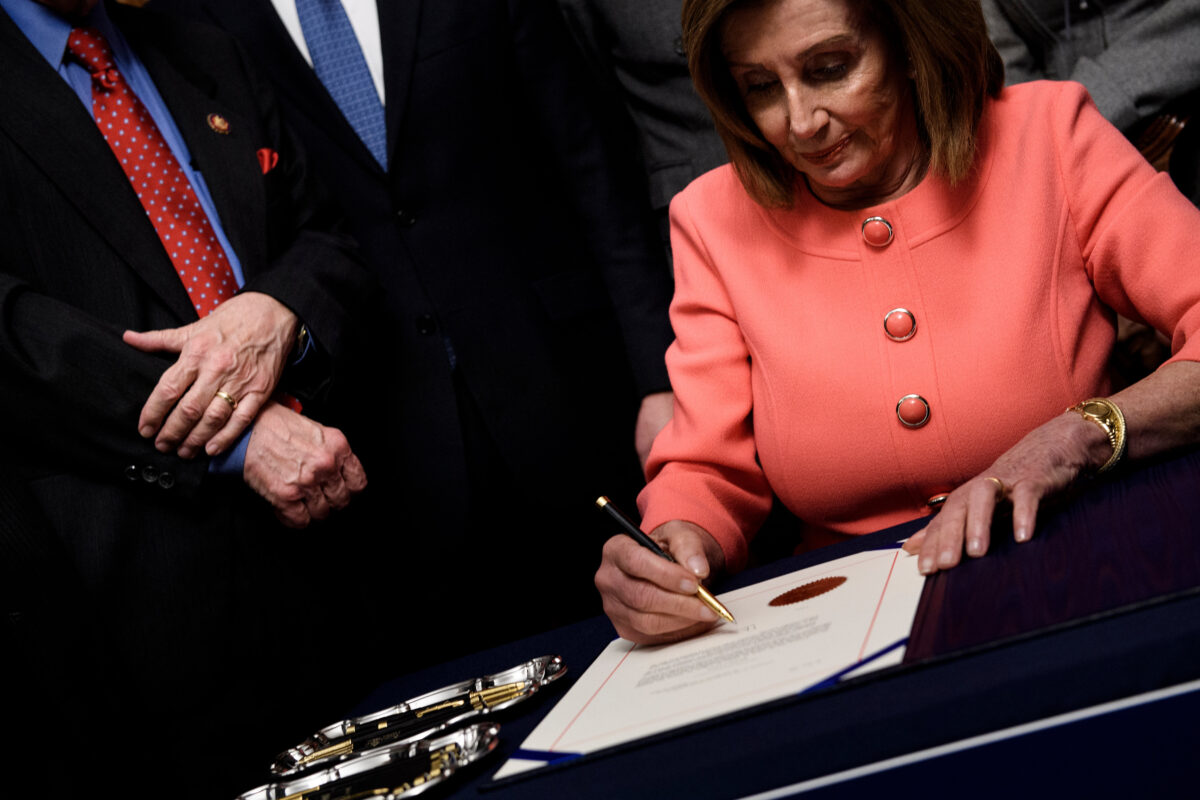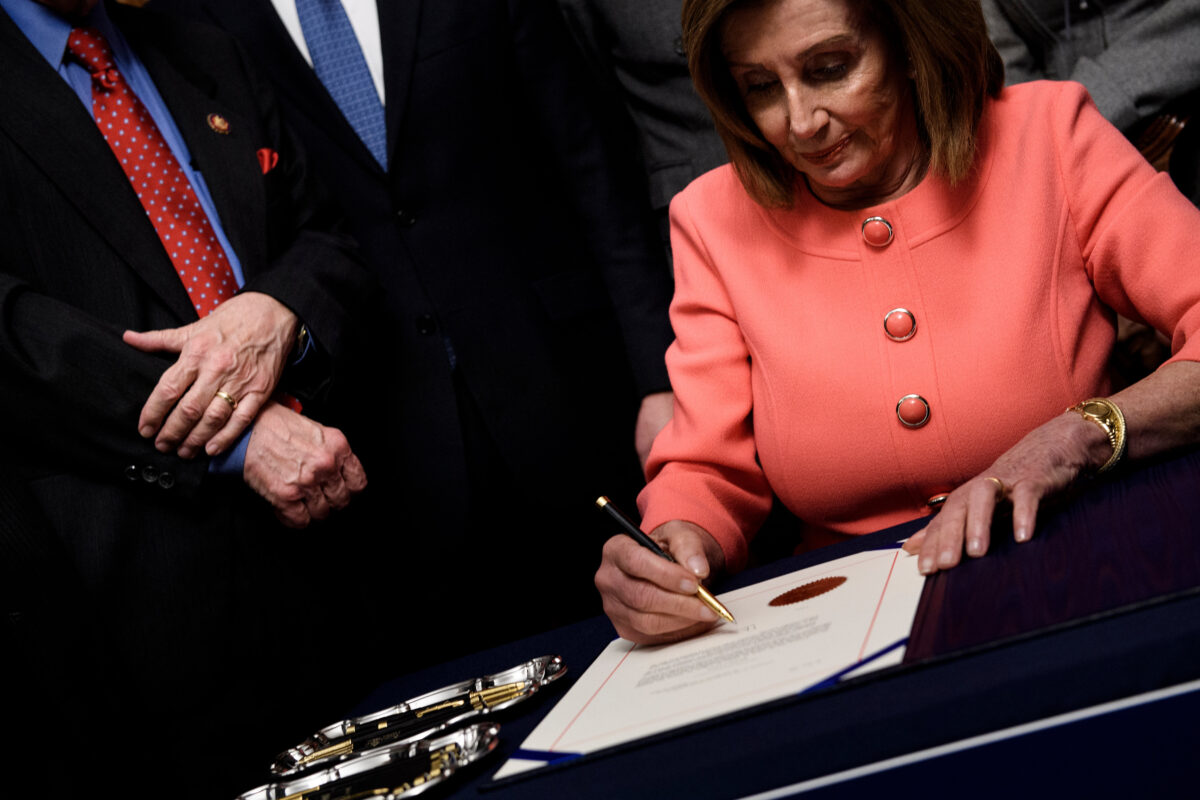 House Speaker Nancy Pelosi (D-Calif.) signs the articles of impeachment of President Donald Trump during an engrossment ceremony on Capitol Hill in Washington on Jan. 15, 2020. (Brendan Smialowski/AFP via Getty Images)

The impeachment articles signed by House Speaker Nancy Pelosi being carried out by the House SAA Paul Irving (R) and House clerk Cheryl Johnson (L) over to the Senate side followed by impeachment managers on Capitol Hill in Washington on Jan. 15, 2020. (Olivier Douliery/AFP via Getty Images)
The House managers were appointed on Jan. 15. Later in the day, the Democrat-controlled body voted to send the impeachment articles to the Senate and the managers walked the articles over to the Senate.
GOP senators said this week that there isn't enough support to outright dismiss the articles of impeachment, which requires a simple majority. A removal from office, or conviction, requires a supermajority. One administration official said that it would be appropriate to dismiss the articles because they're "so weak, that, on their face, if this were a court proceeding, they'd be subject to dismissal."
The administration, though, is going forward with the defense of Trump. Officials believe the trial will wrap up fairly quickly, after senators have said it will last anywhere from a few weeks to six weeks.
"I think it's extraordinarily unlikely that we'd be going beyond two weeks," an official said after being asked if Trump would still give his State of the Union in early February if the trial was still going on.
"We think that this case is overwhelming for the president, and the Senate is not going to have any need to be taking that amount of time on this."
Follow Zachary on Twitter: @zackstieber